As October draws to a close, I figured I would share some of the awesome things that happened this October
Well the month started with the abstastic Flaunt magazine photo shoot where Nick showed off his body and his goods. Nick used to be so shy about showing his body that he used to wear a towel or a shirt near the pool so the paps wouldn't capture anything. Then he kind of evolved and posted a shirtless photo on Instagram which gave me life. I was at work at the time and I took an early break because I was sobbing uncontrollably. At that time it had only been a week after I had seen them in concert and met them so it was just really emotional. Flash forward two years and now he has become this man who just grabs his dick and goes around shirtless. I would blame his douchey attitude on his girlfriend and her influence but that is another story. I woke up that morning to see one picture and then in about ten minutes all the pictures had been released. I've always loved Nick and still think he is the sexiest thing on the planet so this photoshoot was a gift from God. it was super annoying when everyone was like "OMG Nick is so hot" and they probably can't name two of his new songs but none the less it was a great way to start the month.
Sadly, October also meant the end of the Where We Are Tour. I was fortunate enough to see the tour twice and be about four feet away from the lads so WWA was such a huge part of my summer. Even when I wasn't at a show, it was so much to fun to wake up and find HQ pictures of the boys from the tour. Seeing vines and videos was also so much fun. In a way it was like the end of the era because some of the songs they probably won't even sing on tour ever again. Midnight Memories is my favorite album so far and I think this tour was absolutely perfect. From the special Better Than Words crotch grabs, to Harry being a whale, to Zayn hitting insane high notes and just the general fun they all have onstage. Due to the wonders of technology, someone made a livestream of the show so the whole fandom jumped on Twitter to freak out and cry one last time. I was texting Leah (abostonbelle.wordpress.com) the whole time and our conversation is something I never will forget. RIP WWA 😦
Nick Jonas went on tour in October and I was fortunate enough to see him in Boston at the Wilbur theater. I love the kid but he always mumbles so I couldn't exactly hear any of this new songs. Regardless Leah and I had such an amazing time making fools of ourselves. The crowd wasn't into it much and would only just record and take photos. I decided since I was basically in the middle that I would just go crazy and dance and show him I was having fun. This resulted in a ton of eye contact and laughing. Highlights were definitely when he sang Chains, Numb, and of course Jealous. It was such a fun night!
Kingdom, the show Nick Jonas has been promoting like crazy also premiered in October. Nick plays a UFC fighter who is the son of the gym owner. The gym is dealing with financial struggles and is trying its hardest to find new talent. There is an interesting love triangle and many intense dramatic scenes. I'm sure people have their opinions about Nick's acting but I have to admit he is amazing on this show. In the past I have had trouble not seeing him as the character and only as Nick Jonas. On Kingdom he is no longer the teen heartthrob Nick but has transformed into Nate. The show is on DirectTV so I end up finding links to watch it online. If you can find it I definitely recommend watching it!
On October 11th, for one weekend only, One Direction released a Where We Are Tour concert movie. Much to my disappointment they removed some of my favorite songs from the setlist. I was heartbroken to see they had gotten rid of Moments, Kiss You, Better Than Words, Strong, and Rock Me. I think those are some of the best songs live and some of the most memorable from tour. Rumor has it that on the DVD they will be selling they will include all of the songs. I guess because of the exclusive interview they had to cut some tracks but it was still an amazing movie. The audience did this amazing fan project during the song Right Now that was breath taking. Also they boys all played up to the camera so when you were least expecting it you would get a lovely close up and some eye contact.
Are we out of the woods yet? Are we out of the woods yet? Are we out of the woods yet? Are we out the woods? In October, Taylor dropped this single on iTunes and it was the first taste we would get of her new album. She had previously done an interview with Rolling Stone where she revealed the song was about none other than Mr. Styles. This song brought me to tears when it released because of the beautiful love story it tells. I can't get over the part where they move the furniture to dance and when he hit the brakes too soon and they cried all night till the sun came up and omg I just love this song.
One Direction Announced tour!!!!! Out of the blue the boys announced a tour that goes to the UK and USA. The goal of this tour I guess is to go to stadiums that they didn't go to on WWA. Doesn't matter to me because they are going to Gillette Stadium September 12th and its the last day of the tour!!!! Literally had a panic attack because I need to be at the last show. Since the boys did 3 dates last summer, its hard to predict what they will announce for more dates and when they will go onsale. Stay tuned because tickets go onsale tomorrow and I'll most likely make a post about the thought process when buying tickets. Wish me luck!!!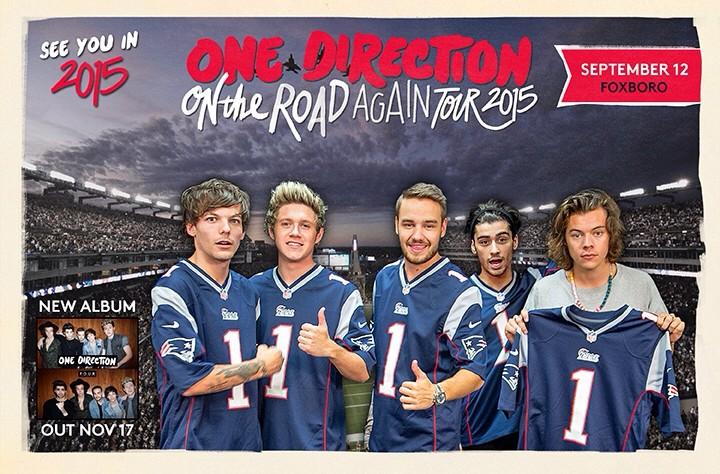 Aside from all the fangirl happenings, a very important life event also occurred. I became a great grand big to the best GG out there! The reveal was one for the history books. To reveal themselves to their littles the bigs were supposed to jump out of boxes. My grand little on the other hand, didn't exactly make it out of the box and ended up on the floor which was so entertaining I almost peed my pants. She is so much fun to be around and we share an obsession for Nick Jonas making it perfect. I can't wait to get to know her better and have an amazing year with my sorority family!
Left to right: (Me, My little, My grand little, My great grand little)
The final things that happened in October was the release of 1989 which you can read all about here, the Steal My Girl video which you can read about Here, and I started this blog!! Thank you so much to everyone who has read so fa! All I can hope is that you will be entertained. Hope you all had a great October and will have a Happy Halloween!!