I figured I created this blog to entertain and speak my mind so why not take the opportunity to express my opinions. Life is so much bigger than the drama that is going on but I still wanted to shed some light on a few things. Lately I have been so disgusted with the way that celebrities are being treated by fans. It seems like people are forgetting that they are human beings. You aren't owed anything, they don't owe you anything. They are there to make music, and they go way beyond what they need to do by following people on twitter, stopping for pictures, and meeting fans. In my opinion these things are a privilege. Back in the day there was no such thing as meet and greets, and autograph was enough to satisfy any fan. Now it seems that all everyone wants is a picture with the person no matter what it takes. I hear constant stories of intense stalking, being rude, mobbing, complaining, being violent just to get the chance to get a picture with a celebrity. Also disclaimer I know it may sound like I'm jealous but in these instances I am not. I will admit if I was in the same situation I would love to have a picture with a celebrity or meet them where I know they will be. However, I would never push anyone, mob them, hurt them, or do whatever it took to get that chance.
Think of One Direction for instance, they are so fan oriented that it's amazing, but at the same time it makes everyone crazy. There are accounts that give out their hotel information and whereabouts, there are people who track their flights (I'm not naming names and its a great opportunity I'm sure but it just goes beyond their privacy in my opinion), and there are people who have to get a picture with them every single time they are remotely close. After the AMA's the boys flew from LAX to Australia. In addition to the intrusive paparazzi which is an issue in itself, the boys were swarmed by girls as they tried to make it to their flights. There are pictures where people are grabbing onto their bodies trying to get them to stop, people standing directly in front of them blocking their way, and people just shoving their phones in their faces. Let's keep in mind these boys are just trying to get to their flight so they can do their scheduled appearances. It's instances like these that help them make the decision to not offer M&Gs on their tours.
It's not only One Direction, this happens to almost everyone that flies into JFK. It's always the same people too, and you can see how it makes the celebrity feel. They always have a blank expression or unhappy face. Think about it, if you were on your way to a flight would you want to be bombarded the whole way there. Let alone would you have enough time. They stop for a picture but not with everyone and there are complaints. They don't stop for any fans and its world war three. Damned if you, damned if you don't. I was just appalled hearing all the stories this year about how when One Direction was in NYC they stayed in five separate hotels. That is insane, the fact that they have to stay separate to break up the mass of fans into five masses to make it more manageable. I'm not saying it's wrong to wait outside in hopes that you will see them. I'm saying the problem arises when everyone gets rude and rowdy and makes it a safety hazard. I'm sure people will argue that it all comes with territory of being famous but why does it have to be. Why can't people be patient and nice and respectful. A selfie is great but not if you are shoving your phone in their face. Wouldn't you rather ask politely, make a bit of small talk, and be remembered as a respectful fan?
I just feel that most celebrities go above and beyond for their fans and its rude when people take advantage of it. Niall couldn't even enjoy his day in Oz because he couldn't leave the building. I understand that they don't have meet and greets and that they haven't been in that country for a while, but if security asks you nicely to leave, you should respect his wishes. Why would you want to be responsible for Niall being upset? Like on the ARIA's red carpet for instance. I heard so many negative things about Liam. There is a vine of him taking pictures with fans and in between the smiles he has no emotion and hands back the phone. I can imagine how this would look, but does anyone take the time to see the other side of it. As the member who follows the most fans on Twitter, Liam bends over backwards for fans. While it may look like he was annoyed, to me it looks like he is trying to get in as many pictures as he can so he was moving very fast. But of course, everyone had to make a big deal of it.
Last but not least is the fan who decided to grab Harry's arm to get his attention. If you look at the pictures, you can see how hurt he was. These are supposed to be fans yet they are treating them like property. Yes, its the beautiful Harry Styles, but what gives you the right to grab him just for a picture? I was so disgusted seeing these pictures. How could you possibly hurt them just for the chance to get a picture. This is why we can't have nice things.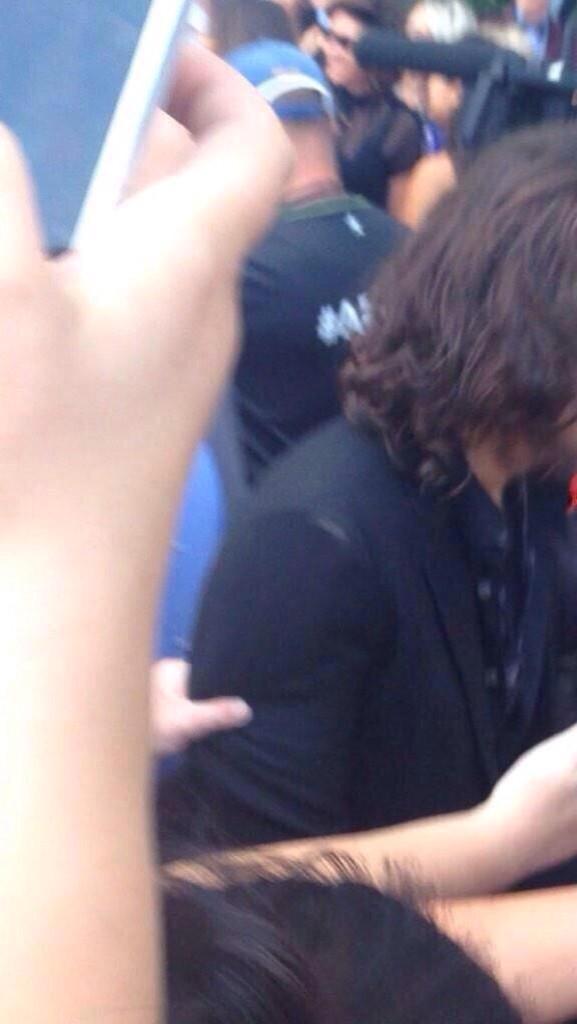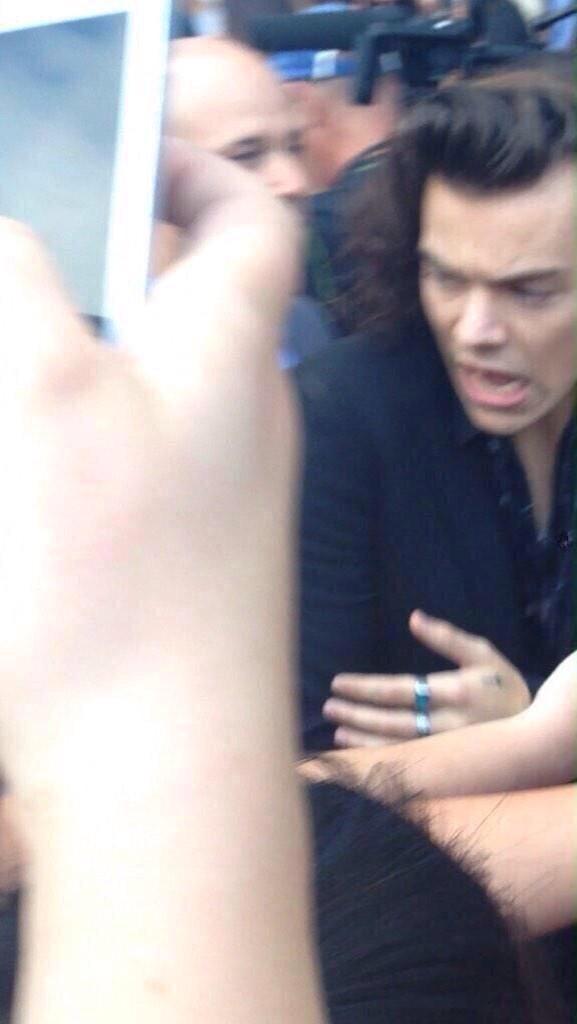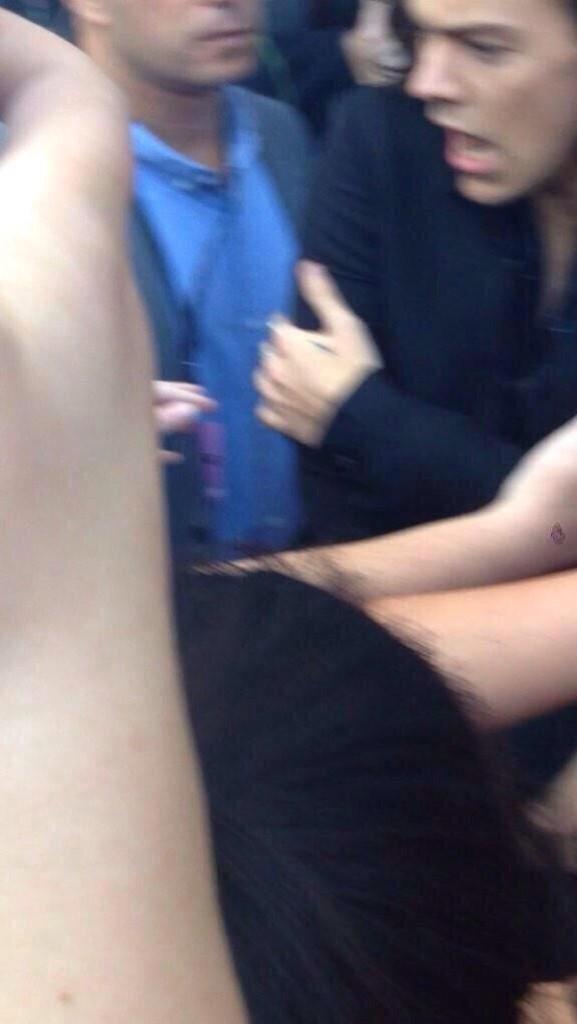 To end on a more positive note, there is however a light at the end of the tunnel. Amongst all the mobbing, there are some fans that get it. Like this girl for instance who tells the fans to be gentle with Zayn because he is jesus christ. I just feel that if people were more respectful, much more could be accomplished and it wouldn't give fangirls such a bad name.