Hello again! Recently one of my mutuals made a Podcast with an episode dedicated to discussing the fans who are 20 something who enjoy One Direction.
This podcast got me thinking about how much being 21 and a fan of One Direction really entails. While there are many plus sides to being able to enjoy some wine and watch Where We Are San Siro. (If you haven't yet check out the drinking game I made for it HERE!) There are many downsides, first world problems, and struggles with being a 21+ fan of One Direction. Also I'm going to include Zayn in some parts because I am still in denial.
---
1. The ever popular comment you are too old to like them
Okay so lets take a look at everyone birthday and ages shall we?
Louis Tomlinson born December 24, 1991 Age 23
Zayn Malik born January 12 1993 Age 22 (he's a normal 22 year old in case you didn't know)
Liam Payne born August 29 1993 Age 21
Niall Horan born September 16 1993 Age 21
Harry Styles born February 1 1994 Age 21
…So you're telling me that I'm too old to like a band of guys that are my age or older? K cool
---
2.  The overwhelming want to go clubbing with them
You desperately wish you could teleport to any of the clubs the boys are papped partying at simply because you are old enough to be there and drink with them.
I can't even tell you how badly I have wanted to go to Funky Buddha, or go clubbing with Louis in LA
---
3. You wish more than anything you could grab a few pints with Niall
It's no secret that Niall loves beer and its no secretly how badly I want to have one with him. Who wouldn't love to sit with that adorable blonde and have a good craic with him about anything and everything
---
4. When this picture came out and you wanted to sit down with Harry and pound them back together more than anything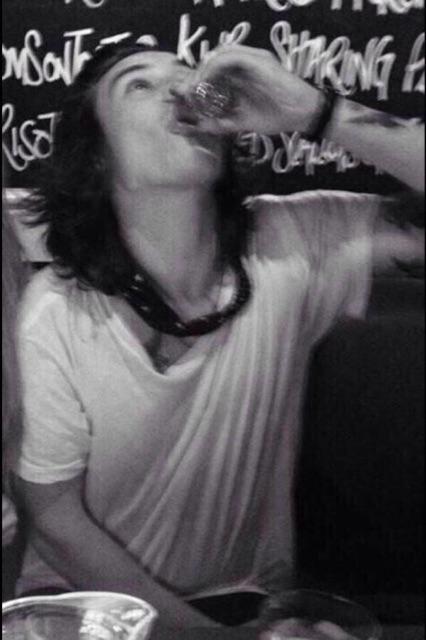 ---
5.  Being old enough to understand the sexual themes of their songs
I mean this isn't exactly a struggle but it is when EVERYONE thinks that all their songs are like What Makes You Beautiful and that their music hasn't evolved or matured in any way shape or form
---
6. You were old enough to drink yourself into a coma the day that Zayn announced he quit
Raise your hand if you drank at any point of the grieving process of dealing with Zayn leaving the band knowing that alcohol does not solve problems but it eased the pain.
---
7.  You have to deal with wanting 1D merch but then realizing it looks like this
fuck it I still own half that shit
---
8.  In people's minds this is One Direction
You have to deal with people thinking they are still fetuses instead of the five hot as fuck sex gods they have grown up to be
---
9. Immature young fans
It sucks having to deal with these fans because they find the need to attack older ones. Not sure if they have noticed but the boys have more mature music now and despite what Mr. Styles says…their concerts are FAR from a FAMILY SHOW.
It does suck though knowing they will never look at you with as much love and joy as they do a 5 year old little girl with pigtails, but hey at the end of the day who can legally fuck them? Us
---
10. You live with the hope that you have a better chance with the boys because of how close you are in age
How many times do you catch yourself thinking. "well if I just bumped into them I'm sure they would be into it"
---
11. Hearing the boys swear turns you on more than it makes you giggle
"SAID I GOT A DIRTY MOUTH"
"I CANT HELP IT" – HARRY STYLES
---
12. You have to plan your classes and work around your fangirl schedule
Since I started college I never had a class before 10am just so I could be ready for any ticket sales and tour announcements. I also would get homework done early if I knew the boys would be on television or at an award show.
---
13. Whenever you go out you have to deal with the fact that you are surrounded by men who will never compare to Niall, Liam, Louis, Harry or Zayn…but you talk to them anyway
One time I went out and saw a man with a manbun, Naturally I told him that I liked his bun and he said that I could touch it. To this I replied "LOL UR NOT HARRY STYLES BYEEE"
---
14. Your drinking abilities lead to very drunk and dirty thoughts about One Direction
I truly have no shame so enjoy some of my drunk tweeting treasures
---
15. You have to pay for your own concert tickets
Saying "It's for my birthday!, just doesn't fly anymore
---
16. You have missed some important things in the fandom because of work or class
Or if you're like me you sat at work and silently watched a live stream of the the London This Is Us premiere silently in  your cubicle
---
17. You have to deal with stubborn DJs who refuse to play any One Direction
We've all gone out and dealt with that dick who no matter how many times you beg or bribe them, they won't play One Direction. I mean it's kinda true but that one bar DJ recognizes you and and will always play the WMYB remix just for you that gets you dancing on the table.
---
18. You have to decide between getting shitfaced or being coherent for OTRA
You wanna be sober and take in the whole experience yet you know with a nice buzz that the concert could be more than you ever imagined!! Currently I'm leaning towards shitfaced so I could have hallucinations that Zayn is still onstage.
---
19. When meeting people you have to test the waters about whether or not you should let them know about your obsession
---
20. You have to be careful of your 1D filter in mixed company so you don't freak someone out or spill the beans to early
Major deal breaker if you relate something to 1D in any typical adult conversation
---
21. You have to deal with insane judgement from everyone, including parents, siblings, family, peers
It totally sucks that no one understands what we go through. But at the end of the day this band makes you happy, allows you to be yourself, and you would take all these struggles any day to get to experience the joy One Direction brings
SO LETS HAVE ANOTHER TOAST TO THE (21+) GIRL ALMIGHTY