Today is my favorite holiday, although it shamefully isn't nationally recognized, today is one of the biggest days of my year. Someone I have been loving and supporting for years and years, is turning a year older! September 16 1992, God gave a gift to the world known as Nicholas Jerry Jonas. As a huge fan of the Jonas Brothers and all things Nick Jonas, this post had to be absolutely amazing. I've unofficially become the ultimate Nick Jonas fan around all my peers. Whenever something Nick related occurs, I get texts about it. The minute he's back on the market, just about everyone lets me know. Whenever his songs are playing in public, of course I get a drunken snapchat of the festivities. Its almost like that Taylor Swift song except "When you think Nick Jonas, I hope you think of me"
It's been a week from hell because of stupid tax deadlines at work, but I'm so happy to finally sit down and gush about why I love Nick Jonas so much. September 16th has always been my favorite holiday because besides family and friends and the usual, I don't think I could ever love something as much as I love Nicholas Jerry Jonas. Instead of writing a thesis on my love for Nick Jonas, I decided to treat everyone to the beauty he is and share some of the times that Nick was just too hot to handle leaving me dying of dehydration.
1. That time the boys went to Hawaii and gave us fans the first shirtless pictures we had ever seen of the Disney starlets

---
2. That time he wore these baseball pants and a human ass had never looked so perfect

---
3. Anytime he ever wore a leather jacket made me weak in the knees

---
4. As Bond and a babe in Burnin Up combined with the way he sings Red Dress is a recipe for my death

---
5. The bajillion times he wore a plaid button up shirt

---
6. When he looked ever so angelic in a simple white tshirt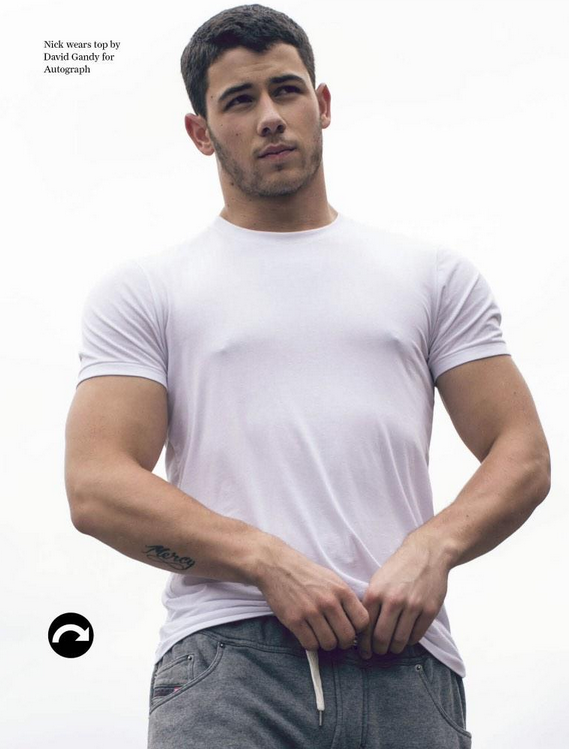 ---
7. Every single performance of Stay had me in tears as he caressed his microphone stand, pulled on his shirt, and just gave that song his all

---
8. His beauty is timeless as he easily transforms into a 19th century French soldier

---
9. When he was the cheekiest, funniest, character on Broadway looking like a GQ model businessman

---
10. When he got a role of lifetime as a UFC fighter on Kingdom, requiring him to bulk up for the job

---
11. When he competed in the Disney Channel Games on Team Inferno (who won) and I wish I could have been that sweatband and rest on top of his curls all day

---
12. The times he has done photoshoots to promote his diabetic pump and looked breathtaking while doing so

---
13. When he was the most adorable sleepy puppy in the Fly With Me video

---
14. As Nate Gray singing the most adorable song

---
15. That time he proved he wasn't the shy guy anymore and posted a shirtless selfie to Instagram looking so chiseled and muscular it caused a drought

---
---
16. Anytime he wore suits, skinny ties, button down and looked so classy I could faint

---
17. Anytime he was lying down, giving you those bedroom eyes making you want to lay next to him more than anything

---
18. Acoustic or Electric, Nick playing guitar has me all worked up

---
19. Anytime we gained access the gun show, left speechless from those biceps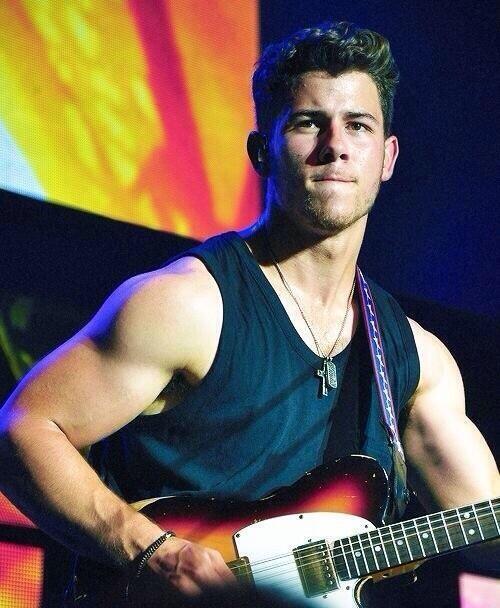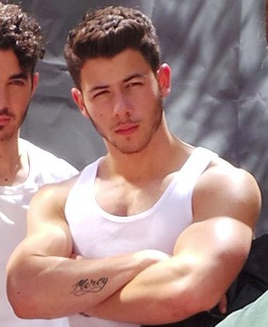 ---
20. When he banged those drums and I wished is that he was banging me

---
21. When he slowed things down and poured his emotions into playing the piano

---
22. Two words: Flaunt Photoshoot, When the world became thirsty for Nick Jonas while I was dying, and crying, and thinking all sorts of dirty things
23. And of course, anytime Nick was single, who wouldn't thirst after this man?

Now give this girl some water!!
HAPPY BIRTHDAY NICK!! HOPE YOU HAD AN AMAZING 23RD!! TIME REALLY DOES FLY!