Last year may have been complicated for Nick Jonas, but with the release of his sophomore album it is clear that this year will be amazing. On June 10th Nick released his second solo album post Jonas Brothers titled Last Year Was Complicated. Reaching #1 on iTunes in just 42 minutes after it's release, it is clear that this album is a strong contender for the best album of 2016. While the first solo album may have been more about Nick going out on his own and experimenting with his individual sound, this album he held nothing back, going there both lyrically and emotionally.
The album describes Nick's past relationship with former Miss Universe Olivia Culpo. The two dated for about two years before breaking up in 2015. As stated in the behind the scenes documentary exclusively on title, Nick and Olivia no longer communicate, leaving whatever is sung on this album to be a complete surprise to her. With much more material to work with, Nick recorded the album focusing on expressing himself in an extremely raw way. The album title, named by Jay Z when he asked Nick to describe his last year, should be enough to make you want to listen. If you still aren't convinced, maybe this track by track review will inspire you to stream it, buy it, and listen to it. Although I would be aware that there may be some extreme bias considering Nick Jonas is basically my everything 🙂
---
VOODOO
The opening track titled Voodoo is an upbeat tune that makes it impossible to sit still while listening. It is a perfect introduction to the album and is distinct among the other tracks. One of the things I loved most about this album is how different each song was. Each track has an individual composition that allows it to stand on it's own. Nick could easily pull a Taylor Swift and pull 8 or so singles from this one album that would get great radio play. While each song is distinct, together they tell his story about his last year and create a cohesive album.
Voodoo describes the feeling of knowing something isn't right but you keep coming back to it. Nick uses voodoo as a way to say there's something about her that makes me stay. He uses phrases like "claws sinking in getting under my skin" to explain the hold she has on him. The verses however tell a different story in that "If this is what you call love, I am better off alone" and explain how he feels completely dried out and empty. The running theme of the lyrics are that whatever this is, it isn't love. This song is a bop and has some fun bollywood inspired flare to it.
Favorite lyric: And I know that I ain't fucking with your voodoo
---
CHAMPAGNE PROBLEMS
One of my favorites on the album. Champagne is my favorite drink so I can definitely relate to this. This song goes more into detail about what Nick and Olivia's final moments were like. The title comes from the idea of using the champagne that was saved for an anniversary to celebrate the break up. When you have champagne problems there is only one way to solve them, "just keep on keep on drinking!" This song along with Voodoo are great dance tracks. There is no way to listen to this song without wanting to move. It's upbeat and has a great techno influence. Going further into the break up, Nick insinuates there may have been a Love You Goodbye incident singing "how did our clothes end up on the floor, didn't we just break each others hearts?" It's the point in the relationship where you know its over so why not toast to what it was and enjoy some champagne. My favorite part of the song is the bridge where Nick goes on to explain the moment "feels so right but we both know it's wrong." With this track Nick gets extremely personal and opens up about how it all ended.
Favorite lyric: Better to fall in love than lose, wish I didn't have to choose
---
CLOSE
By now I would hope that you have at least heard this song. The first taste we received from the new album before it ever came out. Close had a great response with it's music video and radio play. I remember blasting it the night it came out and then listening to it non stop for the next week and a half. Nick explained that this song is about his inability to open up but having the want to. Sung as a duet with Tove Lo, each taking a verse and then coming together on the chorus, the big standout moment of the song is the bass drop and the catchy chorus. The standout line being "space is just a word made up by someone who's afraid to get close." This song could be about asking for a break instead of a breakup and having a lack of vulnerability be the reason for a relationship's demise. This song also has a techno vibe and features some unique musical elements. While I enjoy the song, my favorite is when it is performed acoustically.
The video itself is enough to make me love the song. Who wouldn't want to see Nick in his undergarments rolling around on the floor. The special effects really make this video as Nick and Tove Lo go flying around the room in chairs and share a choreographed sequence crawling on the floor. In my opinion it was the perfect way to kick things off. The single and the video are the perfect appetizer for the album as a whole.
Favorite lyric: I am not really known for ever being speechless
---
CHAINSAW
Since Nick announced LYWC he always teased Chainsaw that it was his most personal song and the one he was most anxious about. This song is more mellow compared the rest and has a heavy R&B influence. Nick spells out that this track is about wanting to destroy everything that would remind you of your ex. Having spent many nights with his ex in his house, he sings about wanting to destroy the sofa, break the china, set the mattress on fire and basically remove any trace of her since they serve as reminders for what they once had. This emotionally driven song allows you to really hear his pain about the situation as he pours his all into the vocals. He explains how he wasn't ready to let her go and even contemplates "did you plan that" as she leaves things behind on purpose. Nick croons about how the house just holds so many memories and was filled with the two of them and now he's left all alone to soak in them.
The video for this song is one of my favorites. Featuring Sara Sampino, the video is a visual representation of the lyrics, showing how it was falling apart and showing exactly what Nick wished he could have done to his house. While it may not be a single, Chainsaw fits the bill of being one of the most expressive songs on the album.
Favorite lyric: We were building brick by brick now it's just a quicksand home
---
TOUCH
You'll find on this album that Nick is a big fan of one word song titles. This song is completely different from the rest. It has a funky guitar bit and is sung mostly in falsetto giving it a bit of a Hands To Myself  vibe. Despite explaining how guarded he can be, Touch describes having a deeper connection with someone beyond the physical. Noting things such as non verbal communication and touching with no hands to really get inside someone's brain. Touching you with no hands can also be used to express the physical side of things if you catch my drift but the song is really about having that true connection with someone. The song itself has a catchy chorus and a sexy laid back vibe which could give off the impression that touch is more than he is describing. I enjoy the story telling aspect of the song in that Nick is sharing his side of things and claiming that he did in fact try to open up. It's another track that makes it irresistible to dance to and definitely in my overall top five from the album.
Favorite lyric: Cause anyone can …. you baby, but that ain't all I'm into
---
BACON
THIS SONG IS LIT! This song is my absolute favorite from the album and it's crazy I predicted it would be just from the title
Haven't heard a single word of it but Bacon is going to be my favorite song #LYWC

—
Shelley Ann (@Shelleyann1817) June 01, 2016
With a name like Bacon you knew it had to be good. Either way it was genius because it definitely got people talking. With Nick singing about Bacon and Joe singing about Cake leaving me with endless cravings, I'm going to have to go on a diet soon unless they start singing about healthy things. Bacon has a hip hop, R&B kinda vibe and even features Ty Dolla $ign. This song is all about embracing your freedoms after a break up. Finally being in a place where you are so happy with your life that you might as well throw some Bacon on it to make it even better. The song is so fun and so easily to sing along to. Nick is a free man enjoying "late nights doing what I want to do." I especially love how he calls out his relationship being a bit of a hassle with "no drama in my life," and his little nod to Beyonce with "I woke up like this."
I hope this song ends up in clubs and bars because it's such a feel good tune. If you're in need of a new song to add to your pregame playlist this for sure is the one. Nick also released a video which looks like so much fun as he wrecks havoc in a dinner where he serves up lots of..you guessed it: Bacon.
Favorite lyric: Aw shit throw some bacon on it
---
GOOD GIRLS
Nick says what everyone is thinking about those good girls turned bad girls you see on Instagram trying way too hard to be something they aren't; posting photos to get likes from people they don't even know. He goes on to even say that they have daddy issues and their beauty might only be skin deep. It's almost providing social commentary as Nick asks "whose the asshole that told you that's what you had to do?" and then later saying "don't want to blame you for it, cause that's what we ask of you."
In my opinion this song is like Teacher 2.0. It has that same retro feel. Teacher makes me want to do the hustle and this song makes me want to roller disco. A hidden surprise in this track is that it features Big Sean. Nick went full force into collaborating with other artists for this album actually leaving me surprised with the amount of rap influence he included. If you had told me that Nick Jonas would have rappers in his songs other than Common and before Sage the Gemini I would have never believed you.
When Nick went solo I kind of expected him to go back to his Elvis Costello influence and do Nick Jonas and the Administration 2.0 heavy on the guitar and rock sound. Instead Nick developed his own sound that can be described as R&B techno funk. The traditional use of instruments has gone out the window as the beats are more computer produced bringing a whole new set of influences to the table. While Nick is drawing from more hip hop influences, the album still has that core Nick Jonas feel through its lyrics.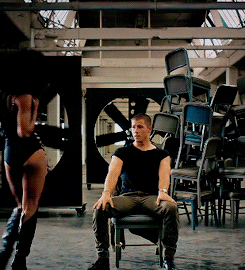 Favorite lyric: Dancing up on the table getting back at your dad
---
THE DIFFERENCE
Nick describes a girl who is broken and he wants to fix her by showing her the difference. The girl depicted had never experienced love in the way that Nick has the ability to show her. He sings about how she "ain't never been touched like this" that "nothings ever good enough" and that he could "be the perfect fit" in her life. This track is beautiful in that you get to see his desire to really love her the way she should be loved. He wants to prove it to her that he will show her "the difference" between her past and what he can bring to the table. The song itself has a nice groove and is different from anything else on the album. It definitely shows his maturity as he talks about touching and what the body wants which is wonderful since he is a 23 year old man. He even calls himself "a grown ass man" in the song. He's really fighting for this relationship to happen. I think it fits perfectly on the record in that it explains a complicated situation.
Favorite lyric: You keep it on the low but you know your body wants mine
---
DON'T MAKE ME CHOOSE
This song is enlightening in that it demonstrates what was a major strain on their relationship. Nick was just venturing into being solo which required a huge amount of hard work. While he was out promoting himself and busting his ass, it appears as though Olivia felt neglected. The track spells it all out that Nick was faced with an ultimatum and was forced to choose between his "love and his life." It's clear that Nick made his decision given that he is now happily single but as he sings "either way I lose." In this song Nick gives his best pitch begging for it to work out. He declares he can make the two worlds work, be there for her and do what he needs to do. Nick is trying to convince her that he can balance both and he's dedicated to the relationship but in the end its not fair to make him chose one or the other. The tune has a fun beat you can snap along and sway too. Nick performed this song on his last tour testing out the waters and it was a huge hit. I enjoy that it provides a glimpse into the life of being famous and balancing your responsibilities and your relationship.
Favorite lyric: If you really love me you would never judge me
---
UNDER YOU
What a bop!! This is another great dance track, sexually charged and full of honest emotion. Nick opens up about missing the relationship and being upset that he let her go singing that he will "never get over being not under you." He calls himself foolish for letting her go. He also talks about how he is haunted by her, he can still taste her lips and he still sees her everywhere. Given that they ended on non speaking terms, I can't imagine it wasn't easy for either of them. The chorus is super catchy and easy to sing along with. Musically its heavy on the bass and picks up as it goes. Nick has a super high note similar to the one in Good Thing that makes my jaw drop. I haven't mentioned it much because I figure its a given but vocally this album is fantastic. Nick's voice is so perfect and so full of emotion for each song. Under You was also a song that Nick sang on his last tour and I remember being excited that I would finally have a studio version of it.
Under You  has a great music video featuring none other than the pretty little liar herself Shay Mitchell. Unfortunately for right now this video is only available on Tidal. In summary it shows Nick singing all alone in a messy apartment talking about being a fool for leaving her. The video shows Shay all dressed up with no where to go crying on her bed with flashes of them throwing things. Later in the video Nick, also dressed up, decides to chase after her. When he gets to her apartment she's in the shower. With no hesitation he hops in and things get pretty steamy. The video ends with Nick drying off in her apartment. If you're into seeing Nick all shirtless and wet I recommend getting yourself a free Tidal trial.
Favorite lyric: Everywhere I see your face, and it kills me everyday
---
UNHINGED
This song is beautiful, it is so well written, so open, so honest, honestly this song is everything. Unhinged has already established itself as a fan favorite. Personally this is the song I am most excited to see performed live. As the slowest, most stripped down one on the album, Unhinged goes further into Nick's story about not being open and closing himself off. Nick really pours himself into this song singing "cause I know if I stay open, I won't be what you need." He dives in to his fears about opening up and being right for each other. The lyrics are biting: "When you close that door you'll see, its Unhinged it's just like me." In this song Nick reveals personal details about himself saying that he is hard to please and people have tried to diagnose what's wrong with him before. He opens up about how certain things are not him, that he doesn't know what he wants, and he guards himself for a reason. If you are going to listen to just one song from this album, it needs to be this one. It not only shows his vocal ability, but it shows his true emotions and thoughts through his honest lyrics.
 Favorite lyric: I ain't scared of my emotions, but I'm afraid to let you see
---
COMFORTABLE
This is another song I really like! To be fair I can't even pick a least favorite at this point, I'm still mesmerized by this amazing record. Comfortable is another fun dance one which is a great way to end the album. It has the vibe of Rather Be when it comes to the chorus. I enjoy how it has an Area Code vibe with the verses and then gets very upbeat for the chorus which is where I find I like the song the most. He makes a direct reference to Olivia saying "never met a beauty queen I didn't like" and he goes on to explain that he wants someone who just likes him for him or "J from Brooklyn, or just in the band." He declares his faith in her is very comfortable. This song is unique in that it has an entire spoken word section preaching about practice and not the game meaning that this is all just preliminary it isn't even the big time yet. Lyrically this song is diverse in that it isn't super straight forward compared to the rest of the album.
Favorite lyric: Who are you fucking with when there ain't nobody fucking with you
---
FINAL THOUGHTS
This album is one of my absolute favorites. I know for a fact in a few years I will still be listening to it every single chance I get. Nick did a fantastic job depicting a complicated relationship, all their issues, their ups and downs, and it why it ultimately came to an end. Each song brings something new to the table, whether its  a new emotion, a new artist, a new music style, or a new concept. As a composition this album is fire. In fact I know it's as good as I think it is because I go on twitter and type in "Nick Jonas Album" and see people rave about it who never would have given his music a chance before. I feel this album really allowed Nick to express himself through his art. He was more personal than ever before and unlike his first album, he wrote almost all the songs featured. He truly had no limits and took all sorts of risks that for sure paid off in the end. If you get the chance I also recommend getting the Target edition that has three extra songs: a fun track called Testify, a heartfelt track called When We Get Home that has some serious Out of the Woods vibes, and a chill song called That's What They All Say. If you have listened to the album and enjoy it as much as I do, be sure to get  yourself some Future Now  tickets so you can see him perform these hits live with Demi Lovato!
Top Five Favorites:
Bacon
Unhinged
Touch
Champagne Problems
Chainsaw
Leave your favorites in the comments below or tweet me @shelleyann1817