February 1st, 1994 Harry Edward Styles was born into this world. It is no secret to anyone that Harry Styles is my absolute favorite human in the entire universe. Here we are now 23 years later as Harry celebrates his 23rd birthday! The only 5 months of the year were for once Harry and I are the same age. At the age of 22, Harry signed a solo record deal, was in a soon to be blockbuster movie called Dunkirk, and most importantly for this post, continued to serve the most amazing looks. Harry brings a breath of fresh air to the world of fashion. He's not your average guy wearing t-shirts and jeans everyday, instead he tries on the most unusual statement pieces, loud prints, shiniest boots, and pulls them all off flawlessly. Just like its no secret that I'm obsessed with Harry, its no secret that I am also obsessed with his wardrobe. He's constantly confusing and confounding not only me, but the whole world as he captivates us with his bold fashion sense leaving us hanging on his every spotting. Harry's fashion sense is always something that grabbed my attention. I have found myself buying items of clothes inspired by his looks and also being inspired by his fearlessness and confidence that comes with each and every new outfit. To celebrate his 23 years, I thought it was about time to highlight my favorite items in his wardrobe along with one time looks that once defined an era. So join me on a virtual adventure through Harry's wardrobe as we see how he never goes out of style.
1. Comfy Oversized Sweaters
Have you ever seen a jumper so fitting, I mean its calling him an obsession!
So warm and cuddly! Like most the purple is my fav, although I love how he continues to wear the tan one.
---
2. Printed Suits
If you ever were to compare the Spice Girls to One Direction, Harry would be Posh for sure! Just look at his options "A printed Gucci suit, a printed Gucci suit, OR a printed Gucci suit"
(These might not all be Gucci but just go along with my comparison 🙂 )
---
3. Patterns and Prints
By far my favorite category of Harry's wardrobe! I love the vacation dad shirts! Polka dots to pinstripes, feathers to flamingos, he always turns up wearing these expensive shirts with the coolest designs. There's a special place in my heart for the blue one with the palm trees if I had to pick my absolute favorite.
---
4. Plain Black Tees
Harry is known to rock a nice all black ensemble onstage. Nothing like a fitted T-shirt
---
5. Plain White Tee's
You know how it goes, long hair slicked back white t-shirt
---
6. Give me some headwear
Beanies, Fedoras, Snapbacks, Bandanas, he wears them all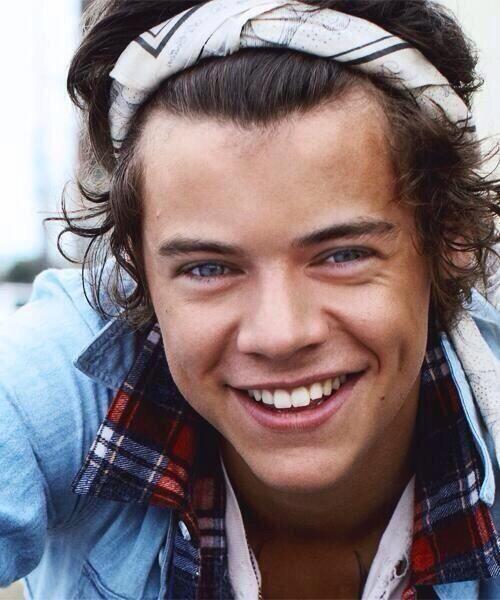 ---
7. Plaid
A man can never go wrong wearing plaid, here are some of my favorites
---
8. Boots on boots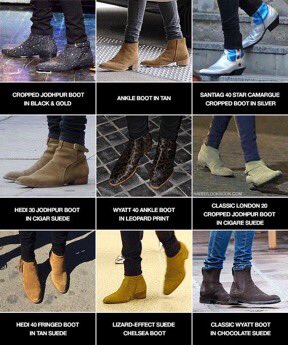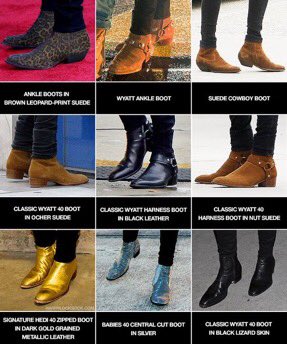 The Most Important Pair
---
9. Hoodies
So Cuddly!
---
10. Coats
Coats with lipstick stains, slim coats, red coats, he has them all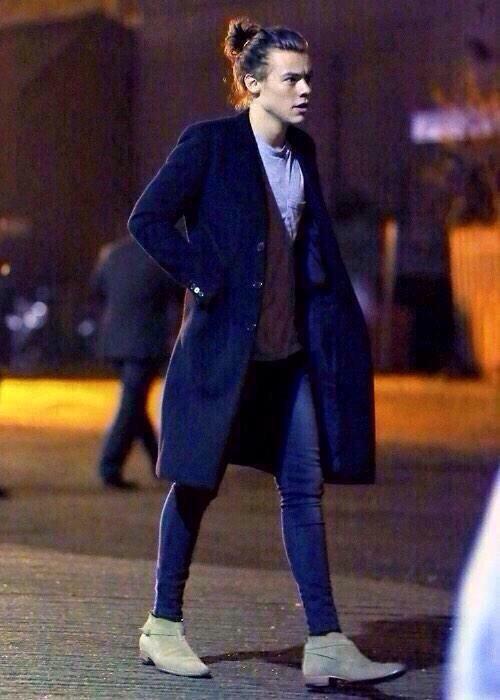 ---
11. See Through Shirts
Sometimes Harry treats us to a see through ensemble, such as his lace outfit in the history video, his shirt from his magazine spread, and of course the iconic OTRA shirt
---
12. Fur
The iconic Jimmy Kimmel vest and the new YSL winter coat

---
13. Green Bay
He's got to rep his favorite American football team! After all that logo is on him forever..
---
14. Swim Shorts
My second favorite of all time. Those yellow shorts have been and will always be the death of me..and who could ever forget Miami!
---
15. Blazers and Bow Ties
I had to throw it back to the early days! Harry's first real look!
---
16. First Impressions
The first time we ever saw him, just look at that style evolution
17. Jackets
Thanks to Harry I own way too many bomber jackets for my own good. He looks amazing in every single one!
---
18. Leather
I am a huge believer in the law of attraction, so lets collectively throw the idea of Harry wearing a leather jacket again into the universe!
---
19. Button Ups
So so sooooo many but here are some of my favorites!
---
20. Award Show Attire
Harry always stands out on any red carpet
---
21. Graphic tees
I was lucky enough to be at the dream boat show, so I though it deserved an honorable mention
---
22. Fancy pants
Not many men can confidently wear a pair of white jeans, or even a floral pair of trousers, for Harry, its just another day
23. Colored ts
Last but not least, sometimes Harry ventures beyond the whites and blacks and treats us to blues and greens
---
There you have it, a select 23 of my favorite things that Harry wears. I cannot believe he is 23, where is the time going!! I hope you enjoyed the post! Feel free to tweet me @shelleyann1817 anytime and let me know what you think! I have a few more ideas up my sleeve that just might be part of Harry's birthday week! Have a great Harry Styles Birthday Day!