As a person who spends hours a day watching Youtube, I decided why not try something out that every Youtuber loves to do: a monthly favorites!! So during September I jotted down a few things that I absolutely enjoyed.
MUSIC
Cake by the Ocean-DNCE

So about a week after I met Joe Jonas at his party at Foxwoods
he revealed to the world that he has new music!! Kinda upset he didn't tell me about it but its fine we're cool. This month I discovered "my new favorite band," After watching teasers and seeing tweets about "your new favorite band" I was dying to know what Joe Jonas had up his sleeve. Turns out he is the lead singer of a brand new band called DNCE and they were releasing their new song!! If you haven't listened to it yet, I highly recommend it!! It has a cool Uptown Funk feel and its Joe Jonas! I've missed Joe so much and while I enjoy his instagrams and snapchats, nothing beats getting to hear his voice again and see him perform! I honestly believe that I would enjoy this song even if it didn't involve Joe Jonas. The only downside to it is that it leaves me with an endless craving for cake…have a listen!
---
 Infinityyyyy-One Direction
Picture this, its a normal day in the office, you have to meet with another staff member to discuss something, you get back to your cubicle, and right as you sit down you get a little blue notification just casually showing a tweet from One Direction about their new album. UM WHATTTT!! A NEW ALBUM!! ALREADY!! That's right, brace yourselves because on November 13th, One Direction will release their fifth studio album!! Oh and it wasn't just an album announcement, those cheeky chaps included a new song when you preorder the album! The single Infinity was released and basically had me in tears. Unfortunately it was such a busy day in the office that day but do you think that matters?? I grabbed my headphones, mentally prepared myself to not have a fangirl freakout a work, pressed play, and fell in love.
To be honest, I still haven't gotten over Drag Me Down so I was not at all ready for a new single. I was still very fragile because OTRA USA had just ended and this song was the last thing I needed. I instantly fell in love with Niall's opening verse, and actually jumped when Harry came in for the chorus. I was not expecting the intensity and passion he brought to the song. The lyrics themselves are enough to make you cry, but sung by the voices of four angels and I'm a goner for sure! If this song is the slightest taste of the new album I think we are in for a real treat. IS IT NOVEMBER 13TH YET I NEED MORE!
---
All To Well-Taylor Swift

Alright before you all start telling me how this song is old let me just tell you I haven't stopped listening to it all September. I have always found this song to be amazing and one of the best on the album RED. I was teary eyed when she sang it on the RED tour and since the explosion of 1989 it had been a while since I revisited it. I don't even know what it is about this song, since its not like I have some love story to relate it to, but it always makes me want to sob. As you may know I am a recent college grad trying to get a hold on this thing they call adult life. It hasn't been the easiest transition and I have my good days and bad days but this one lyric in this song just hits me so hard and I think thats why I gravitated towards it all month.
"I'd like to be my old self again, but I'm still trying to find it."
Leave it to Taylor to always just get you and what you're going through.
---
Black Magic-Little Mix

I AM OBSESSED WITH THIS SONG!!! I know it came out before September but I have just fallen in love with this song, with this band, with everything. I'm a pretty big fan of Little Mix, I have their two albums on my iPod and I had tickets to see them before they canceled their American tour. Luckily I was able to see them with Demi. Now I'm not going to lie and say Zayn had no impact in me deciding to listen to Little Mix but I'm glad he did. These girls can sing, especially Perrie. Vocally she is the Zayn of Little Mix, they always give her the long notes to sing and boy does she deliver. These four girls are so talented and its a shame they aren't more popular in the states and that Fifth Harmony is… (not a fan..soz). This song though helped put them on the map and hopefully their album will really make them known!! The best part about this song is when they perform it live because it has the cutest little dance. Just Watch!
---
Shawn Mendes
There's this cool thing called Apple Music, I'm sure you've heard of it. It lets you listen to anything on Itunes for free with the three month trial. I'm telling you now you better start the trial because so much music is coming out this fall that with three months you'll get to listen to it all for free. However if they are a favorite or yours buy the songs and pay their bills. People like Niall Horan, actually appreciate it 🙂 At work I get to listen to music to pass the day, and I get tired of the same old thing. After I listen to Infinity, Black Magic, or Cake by the Ocean for four hours straight, its time for a change. One day I decided to just listen to Shawn Mendes album. I heard his song Stitches and Life of the Party on my Nick Jonas Pandora station, and I really enjoyed his set during 1989. His album did not disappoint. He's like a mini Ed Sheeran. I love his voice and I really like the song Something Big. He can rap he can sing and he may be 17 but he's a cutie pie!
---
Halsey
Last but not least is Halsey. I've been trying to get myself to start trying new things and Halsey was on that list. I see her name every now and again on my timeline and I figured why not give it a go since I can listen to her album for free on Itunes. I never expected to every like her album as much as I did. I just started listening to it on Monday and I listened to it non stop every single day at work over and over again. I usually don't like songs about getting high and whatnot but I really really really enjoy her music. My favorite songs are Hold Me Down, Control, and Gasoline. I can't get over how I truly didn't expect to enjoy her music at all but I find myself constantly going back to it, even now writing this post I'm jamming to Badlands. Just goes to show you never know what can happen until you give it a chance. (Also will someone in the comments please tell me how to pronounce her name, is its Halsey like a Hallway or Halsey like Halle Berry)
---
---
Television 
Bachelor in Paradise
I watched Kaitlyns season and I enjoyed watching a lovey dovey reality show on a Monday night so I figured why not watch the spin off? I'm glad I did because I got to see Jade and Tanner fall in love and get engaged. They were my favorite couple the entire series and I almost cried when the previews kept hinting that maybe they wouldn't make it to the end. Luckily they did and he proposed and it was so magical! I love them more than Kaitlyn and Shawn and wish them nothing but happiness in their life together! Jade and Tanner are also so adorable on Instagram, I really hope their relationship stands the test of the time and they make it to their wedding day.
---
Big Brother
This season was rather disappointing because one person ran the whole game but at the end of the day I was happy with the winner. I liked Steve from day one, he was the ultimate underdog. He is a superfan so he has studied every single player's game and I knew that he had enough knowledge to take himself to the end. While Liz was a good competitor, she helped get all those jury members out so at the end of the day, it would have been stupid for Steve not to win. This show was on all summer but I figured since it ended in September why not throw it in my favorites
---
Scream Queens
After last weeks episode I don't think I can call it a favorite, but the pilot was so amazing. Add a show about sororities, famous faces, humor, college, and Nick Jonas and you have my dream come true. I love anything Nick Jonas so of course I was gonna tune in to support and surprisingly I wasn't let down. I usually hate all things horror but I managed to make it through all of Pretty Little Liars so I figured why not try out Scream Queens since its more satirical if anything. Nick completely stole the show for me. It was obvious that they wanted him to attract an audience in the first episode since they had him in his underwear and working out practically the whole time.
I was disappointed with the second episode but I'm still going to tune in every Tuesday. If you haven't yet I would give it a try and we can talk about it together!
---
Dallas Cowboy Cheerleaders
This show has always been a guilty pleasure of mine. It makes me feel absolutely terrible seeing these girls who are much skinnier than me being let go from the team because they don't look good in the uniform. I love watching this show because they give you people to root for, you get to watch everyone's journey. I also love the dances and the music. One episode they were doing a photoshoot and all of a sudden I hear Steal My Girl then directly after they played Jealous. When they auditioned the routine was set to Move by Little Mix. This show also has a makeover episode which I have always loved since the first days of top model. It fits right in with the other reality tv I watch and I'm so happy it was back for a 10th season.
---
Empire
This is another instance of trying something new. I came into work one day and my co-worker who knows I love One Direction and Taylor Swift and all the rest, asked me if I watched Empire. I told him no and then he proceeded to tell me why its such a great show and that he thinks I would like it since it has to do with the music industry. I rarely watch any dramas on tv and I knew it was only one season to catch up on so I figured why not give it a try. In the past I have won awards for my binge watching abilities. (This is a true fact I won this award in my sorority after spending 2 months watching all 9 seasons of One Tree Hill). So I sat down a week ago on a Sunday afternoon and started watching. The next new episode was on Wednesday so I had limited time to make it. Of course I managed just fine because this show is so addictive, so good, it ends on endless cliff hangers, and you are just dying to know what will happen next. I love Jamal and Cookie and I think the Lyon's have such an interesting dynamic. I also love the music on the show and truly just everything about it. I'm completely caught up and season 2 just started meaning the fun doesn't have to end!
---
Random
Liam Payne's Hair
Liam has been looking so fine lately. He emerges from night clubs looking as if he hasn't even partied yet and his hair looks so amazing. It's a favorite of this month for sure. Just looking at him would make anyone scream Daddy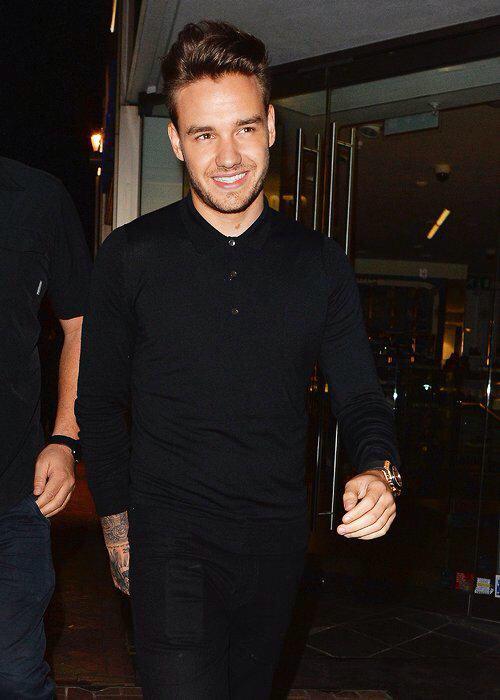 ---
Sophia Smith
Sophia is super private but every now and then thanks to Lottie and Andy and Liam we get to see a little glimpse of her life. This girl is so beautiful I wish we knew more about her. I'm so happy for her and Liam because she is such a princess and I'm currently just obsessed with her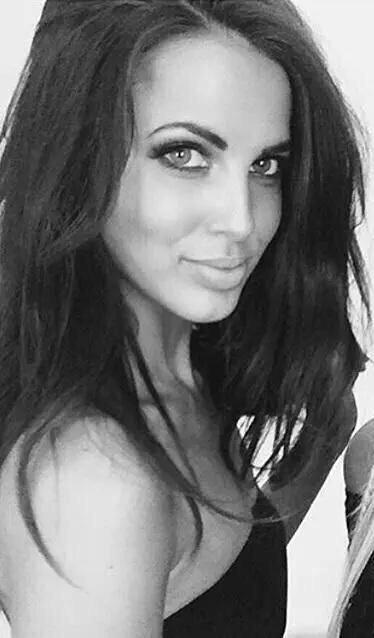 ---
Joe and Gigi
At first I found it weird that someone from Taylor Swift's squad would be dating one of the famous Taylor ex's but I am completely for it. I've watched Gigi on housewives since the start and obviously I know everything there is to know about Joe so I couldn't be happier for them! I love when she's on Joe's snapchat or he's on her instagram. The two are so in love and they are simply just so adorable.
---
Harry's Gold Boots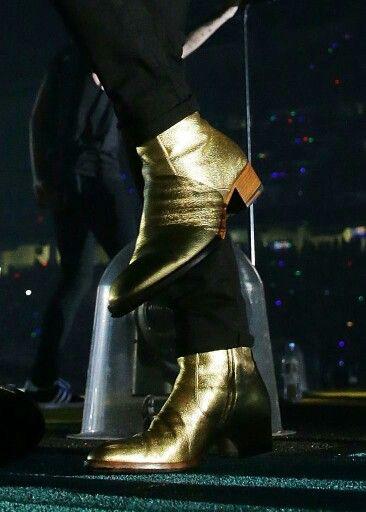 (went to find a pic of them on twitter and found this one…then realized it was from my own tweet)
This is more of an all time favorite but since its my first favorites I figured why not include them. I am obsessed with these boots. I don't know what it is about them but he wears them so well and they always look great with his outfit. I also feel he has a little bit more pep in his step when he wears them and goes a little more crazy on stage. I am so in love with them. He has a heart of gold and boots to match. If anyone can find a cheap pair of gold boots let me know because I desperately want them. I could write an essay about those damn gold boots.
---
My love Zoe on Seventeen!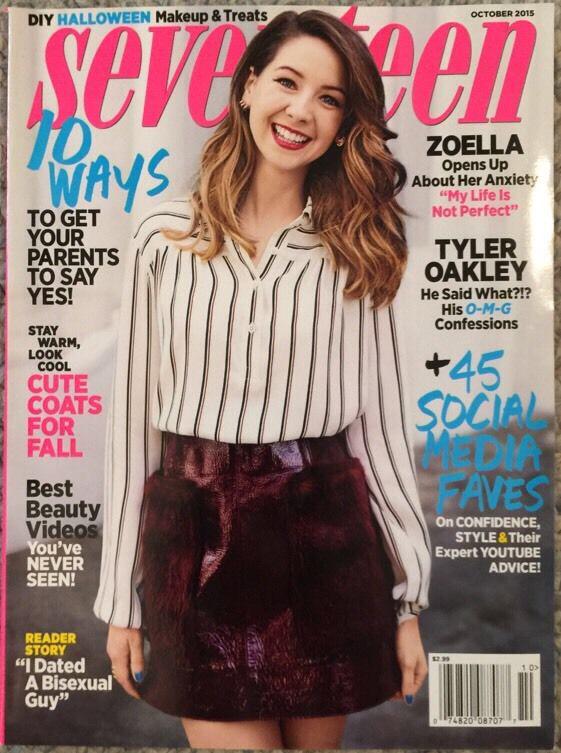 Again its no secret that Zoella is everything I want to be in life. I was so happy when I saw her on the cover!! It's strange to see her go a bit mainstream but its so nice at the same time because she deserves the world! I loved her article and she looks so gorgeous in the spread. Yay team internet! I guess in terms of favorites she goes on the list for All Time Favorite Female Celebrity
---
Super Fruit
Speaking of Youtubers and trying new things, I gave Super Fruit a try! I had seen some of their videos from when they collab with people I already watch (Tyler, Mamrie) but I haven't watched a ton of their stuff. One day I just kept clicking from video to video and found myself laughing along and really enjoying their content. The two are so funny and I have so much more to catch up on that I look forward to doing so.
---
My Disney loves Reunite
Vegas. Nick Jonas. Demi Lovato. Joe Jonas. Sounds perfect to me! The group reunited at the Iheartradio music festival where they each supported eachother's sets and took adorable instagrams. Nothing makes me happier than seeing they are all still such good  friends!
---
Concerts
My last favorite of the month of September was getting to see Nick Jonas, One Direction, and Ed Sheeran in concert. I plan on doing individual posts for these concerts this month because I really want to have a memorium of them that I can look back on and I think it would be a fitting thing to blog about. I have so many potential posts in the works so keep your eyes peeled!
---
What were some of your favorites this month? If you made it the end of this post tell me your current favorite song, favorite tv show,  a new artist I should listen to, and a random favorite! Can't wait to read your responses. Enjoy October!!